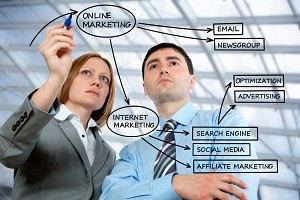 SEO practices are always changing from time to time, which is why companies must not get comfortable and settle with their current strategy because if they do, they are not maximizing their potential. According to INC., "Understanding how you can evolve your strategy as the search engines evolve starts with recognizing how it's all changing in the first place." A good way to start is by comparing trends in the past and in the present. When this is done, it can help improve a company's internet marketing in Oklahoma City.
In terms of SEO mindset today, marketers should put more emphasis on the brand's reputation marketing and how the people engage with the brand. This would improve the search engine rankings by increasing the share rate and natural links, but the ultimate goal here is improving how the brand is viewed. These days, people rely on online reviews to decide whether or not to engage with a certain company.
Improving the reputation of the brand should be a top priority because, in the long run, it affects all other marketing efforts, both online and offline. The more that consumers know about the brand, the more confident they are about engaging and trusting them. One issue that can be encountered when it comes to online reputations is bad reviews. It is even worse when these reviews can be seen on websites that are ranked high on search engines, meaning a lot of people will see it. Whether or not these reviews are truthful or not, it would still have an impact on the company's online reputation.
Reviews are only one part of a large reputation marketing strategy. Companies should make sure that their website ranks at the top as much as possible, especially for their keywords. Their websites should also be mobile-friendly as more and more people are making use of their mobile devices to access the Internet; meaning that it should easily be viewed on mobile browsers so users would be able to navigate the site easily.
Those who need assistance in setting up their online marketing strategy should look up companies such as iConcepts Marketing who have an extensive background in online marketing. Take full advantage of what they have to offer and watch your business grow.
(The New Age of SEO: Why Your Approach Must Change, Inc., February 3, 2015)