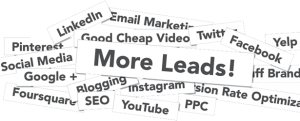 Want more client referrals? Here's how!
Most businesses are always looking for ways to find more client referrals. However as outlined by GrowThink.com some 58.6% of us don't even take the time to request them! This isn't something that takes place automagically, but instead is the offspring of a clear, targeted strategy used consistently. To help you catch the vision listed below are seven easy methods for getting more client referrals, faster and easier than you might have believed possible!
Recruit your best customers – Your best customers could be your best option, because they are already fond of what you do don't need enticement to refer you to their circle of friends. You simply need to ask them!
Offer incentives – Special discounts, free stuff, upgrades or other rewards appropriate for your business are a good way to get people to offer client referrals.
Over-deliver on first-time customers – Whenever you are get a new customer, a great way to get them talking to their circle of contacts is to over-deliver on them. This could appear in a number of ways, but make sure they view your business as a cut above the rest.
Actively engage with customers – Getting your customers talking and interacting with you, and ultimately their social circles, can open many doors. Find common ground, and perhaps create an online community for your clients, for instance a blog or Facebook group.
Be grateful and hand out perks – Become really good at saying "Thank You", as well as in understanding  when a well-placed perk can help you. A surprise gift card or a thank you note can work wonders.
Get the employees focusing on it – Helping your employees get behind this can amplify your efforts. You may have to put together some sort of reward, but it can be worth the time and effort to put it together.
Create a loyalty program – A customer loyalty program, preferably online, can help you generate excitement and engagement. Reward interaction as well as purchases, because this could lead to more and more people becoming involved.
A solid client referral plan will take some effort, but can also result in a ton of new business pre-disposed to giving you a chance. What more can you ask?
Want to learn how to get more referrals? Contact Us Today!