Google Pigeon Update for Local Search
It had to happen, and it has. The most recent Google update, named Pigeon, is focused on local search results, and it has had some rather wide reaching effects.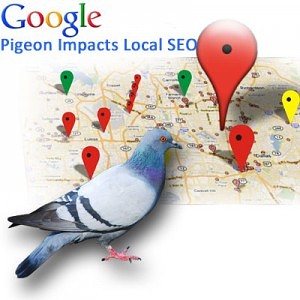 The stated aim of this update is to more closely tie local results with what the standard web ranking signals are. This is presumably done to make rankings more consistent, and increase the quality of the results. While it's unclear if it will succeed in those aims, there are a few ramifications that are clear, and the effects they are having is very real for some local businesses.
Let's have a look at 3 ways Pigeon is evidently impacting local search, and what if anything there is to do about it.
3 Initial effects Pigeon is having on local search
Strong brand directories are winning – Directories like Yelp, TripAdvisor and Yellowpages.com are seeing an up to 10 percent bump up in traffic and rankings, often showing up multiple times for a local search.
Smaller map radius – The view shown by Maps is now in many cases much smaller, reducing the number of businesses found in an area, and consequently opening the door for more directory results in order to have anything to show at all. This makes it problematic for locations just outside the exact search area to be found as a choice in a neighboring locale search.
Phasing out of the 7 pack – Far fewer local search terms are benefiting from the increased visibility of the 7-pack. While larger search terms still show this, most now show a 3-pack with a reduced map radius, or nothing at all. The real world traffic loss experts are reporting that a local business not showing up any longer in the map pack is losing 16 percent a month. Quite significant.
As the Pigeon update plays out and the dust settles, and undergoes a few incarnations, it will be more clear what the lasting impact will be for your local search results. In the meantime, making sure you are optimizing your local directory listings for all they're worth appears to be your best line of defense.
Related articles:
Google+ Local Search
Six Tips to Keep Your Site From Being Banned by Google